HSI Newsletter August 2011
Imagine, you are waiting in line at the grocery store and a woman in front of you can't stand still for a second. She jumps a foot off the ground several times, then all of a sudden turns around and lunges towards you. What would you do? I took a step back, looked up and realized that I knew this beautiful young lady, and that she was behaving rather strangely. She proceeded to call out my name loudly while she pulled her t-shirt way down her cleavage and then on the back almost to her waist. "Do you see this?"
What I saw were many slightly infected bumps on her chest and 6 or 7 red pockmarked eruptions on her back. She explained that she had been bitten by something, and after being prescribed steroids she felt much worse. She listed everything that had happened to her in the last few days very quickly, and said that she was in the store to look for a homeopathic remedy. At this point the cashier was ready for payment and the young lady paid for her groceries in a great hurry. I offered to have her stop by my house to talk about this some more.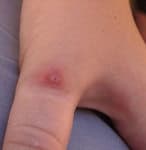 This is her story: "Five or six days ago I slept in an attic in Wyoming. I dreamt about a spider, woke up, felt crazy and couldn't sleep. Soon after, I got stabbing, shooting pains. They are moving through different spots, and come very suddenly. I thought I had been bitten by a spider but I don't know for sure. I used to get Black Widow bites all the time, but it was never like this. Three days later I broke out with these bumps between my breasts. Now my muscles are sore. I am sore in the armpits, breasts and back. I can't sleep. After I took steroids I felt yucky and like bugs were crawling all over me."
Further questioning brings out that she is really speedy, feverishly hot, very irritated, has no patience, is anxious, nauseous, can't eat, is extremely thirsty and wants cold drinks of either lemon or orange flavor.
Based on many of these symptoms, especially her level of agitation, feverishness, redness of the bites, and her craving for sour cold drinks I suggested the homeopathic remedy Belladonna. She calls one day after taking the remedy Belladonna and reports that she still hasn't slept right. She wakes suddenly with stabbing pains near the bites. She's had 3 – 4 sleepless nights now. She vomited in the morning, had diarrhea three times, is dizzy when she moves her head, doesn't want to drink or swallow anything, the bumps on her chest now have pus and worse of all, she feels very tight around her heart. It doesn't seem like there is any improvement from the remedy she took. Still, we don't know what exactly happened to her, or what kind of bite she is suffering from.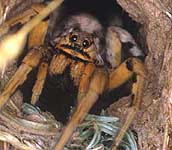 I decided to look at the homeopathic description of Tarentula Hispanica. The remedy profile describes her hurriedness, rapid movements, impatience, constant hand and leg motion (jumping up and down), a craving for cold drinks, her difficulty to swallow anything and her erratic sleep. She takes the homeopathic remedy Tarentula Hispanica and I don't hear from her.
I assume that she has either checked herself into a hospital (as I suggested) or that she may be sleeping. When she calls 48 hours after she took the remedy, she tells me that immediately after taking the remedy she had a pounding head ache, stabbing pains around the bites every five minutes, and one stabbing pain through the heart. Strangely enough, she felt generally much better. She then slept all night and through the next day. Now her craziness is gone, there is still some soreness around the bites, on and off some tension around her heart. I suggest she'd see a physician for a heart check. She does and nothing can be detected. Three days later she calls to say: "I am so much better. No pain, no itching. I feel human again".
Not everybody can use the homeopathic remedy Tarentula for a spider bite. There are other homeopathic remedies available. This particular remedy made from the spider only worked for this lovely lady because her symptoms matched the symptoms described in the remedy so well (see Like cures Like).