The practice of homeopathy offers a rewarding career with the opportunity to naturally and significantly improve health and wellness. Non-invasive, natural remedies, skillfully administered, offer an effective pathway for individuals and families to improve emotional and physical well-being. Studying homeopathy offers a stimulating and intriguing exploration into an alternative, effective health care system.
Usually, certified homeopaths establish an independent practice and work from their office, home office or a telehealth portal. With homeopathic expertise certified practitioners may also use the opportunity to join a group of health professionals offering a variety of healing modalities.
Homeopathy has proven to support and enhance wellness services provided by health care practitioners such as acupuncturists, chiropractors, counselors, massage therapists, midwifes, nurses, nutritionists, physicians, physical therapists and psychotherapists. Whether you are establishing a practice in homeopathy, or adding homeopathy to an existing health care practice, homeopathy offers a powerful and practical agent of healing.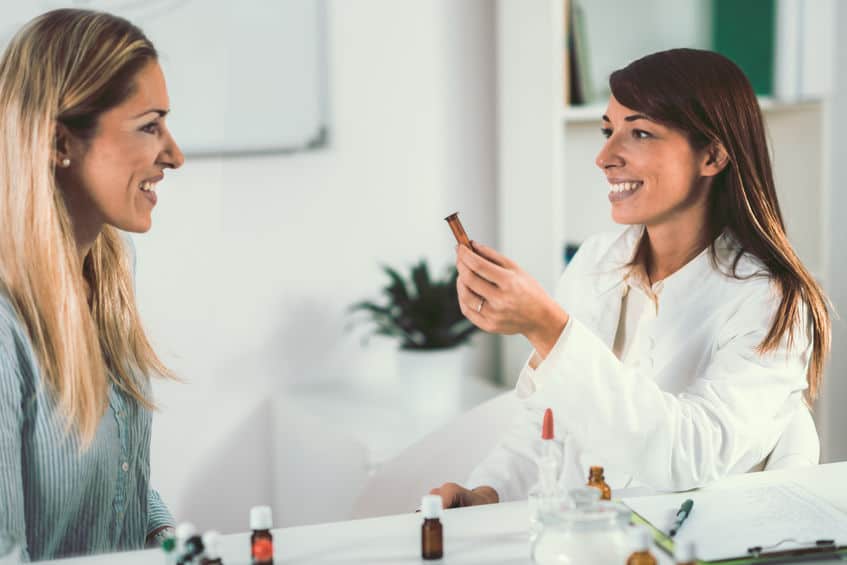 If you currently work as a health practitioner, certification in homeopathy can substantially enrich and extend your practice to a public increasingly interested in natural, holistic healthcare.
I have a whole new set of powerful, yet gentle tools in my medicine bag.
Homeopathy and midwifery are a natural combination. Sometimes during labor, a woman can become stuck or have difficulty to work through an emotional blockage. She may be having unusual pain that is hindering her progress. Homeopathy can initiate a shift for her, so that she can do the work of labor and give birth to a healthy baby naturally. Homeopathy is safe, gentle, effective, and can bring a positive outcome for mother and baby.
Homeopathy – a great fit with other wellness modalities:
Homeopathy and Acupuncture
Elizabeth Astor-Thomas, L.Ac., CHom., CCH, Dipl.OM, MSOM
HSI graduate
Audrey Cremer, RN, CHom.
HSI graduate
The laws governing the practice of complementary and alternative health care vary from state to state, country to country, and profession to profession. Regarding practitioners practicing the healing arts in the public domain without any state occupational licensure, such as homeopaths, herbalists, traditional naturopaths, life coaches and more, 10 states have put in place safe harbor practitioner exemption laws so that the practitioners cannot be criminally charged for practicing a healing art without a license. The National Health Freedom Action has been instrumental in supporting the passage of Safe Harbor Practitioner Exemption bills that protect practitioners from criminal laws and protect access to health care practitioners who do not hold state occupational licenses and are currently practicing in the public domain.
Safe Harbor Exemption laws protect consumer access to the broad range of health care and healing practitioners, such as herbalists, traditional naturopaths, homeopaths, body workers, and culturally specific healing practices that do not rise to the level of concern requiring state, certification, registration, or licensure. Ten states now protect consumer access to these practitioners on some level, including Oklahoma, Idaho, Minnesota, Rhode Island, California, Louisiana, New Mexico, Arizona (limited exemption for homeopaths only), Colorado, and Nevada (https://nationalhealthfreedom.org/safe-harbor-laws). Four states have active bills at their state legislatures in 2019. Fifteen additional states have introduced similar legislation within the past ten years. More states are preparing to do so in the future. A graduate from any of the accredited homeopathy schools can earn the credential CCH issued by the Council for Homeopathic certification (CHC). Please check any legal issues regarding the practice of homeopathy or any other complementary or alternative health care practice in the states or countries where you intend to practice.

Please check any legal issues regarding the practice of homeopathy or any other complementary or alternative health care practice in the states or countries where you intend to practice.