Hahnemann Laboratories, Inc. established by the late Founder, Michael Quinn in 1985, is nationally and internationally known for their high quality, high potency, and custom made homeopathic remedies. Their mail order Company has both a California State Board of Pharmacy regulated compounding pharmacy and a state-of-the-art FDA certified production laboratory of homeopathic remedies. They manufacture the finest homeopathic remedies in centesimal (C) and LM (or Q) potencies in accordance with the methods of Dr. Samuel Hahnemann, and the guidelines found in the Homeopathic Pharmacopoeia of the United States.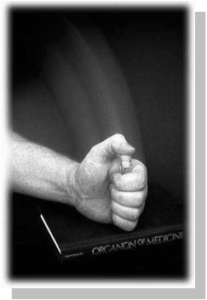 By adhering to Hahnemann's methods, They are proud to provide the highest quality homeopathic remedies by embracing their 'Radically Traditional' philosophy for the production of pure potent classical remedies: Due to the special nature of homeopathic medicines they take the greatest care in ensuring their proper production.
Using traditional Hahnemannian materials such as glass and corks
Using the purest raw material possible
Using double distilled water and the highest grade ethyl alcohol
Using GMO-free sucrose pellets for remedy manufacturing
Applying strong succession with each and every step of potentization
Limiting Electronic Transmission Fields by using compressed air to power equipment and banning cell phones and wi-fi in their scent-free facility
Engaging separate drying chambers for each final product to ensure no cross contamination
They strive through these methods and actions to produce remedies which homeopathic practitioners can use with confidence for the treatment of their patients, and which individuals can use for themselves and their families to lessen the discomfort of minor acute illnesses and injuries.  Their remedies are offered at a reasonable price, with friendly and reliable service to their customers.
They are proud of their tradition of high quality remedies and continue to work hard to provide not only the most effective remedies, but also the most professional and accessible kits for your practice. Their Quinn Dispensing Kit and other Professional Kits continue to provide practitioners with easily accessible methods of providing remedies to patients.
For more information on ordering kits for your practice or home call 888.427.6422 and they would be happy to work with you to find the best solution.