Saturday, October 15, 2016 – 9.00 AM to 10.00 AM (MST)
Please register for Anne Schadde's free webinar, Releasing the Essence of Tourmalines here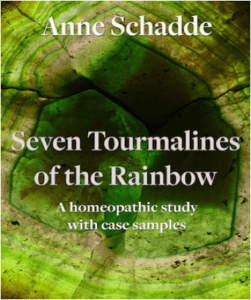 According to an old Egyptian legend, the Tourmaline wandered across a rainbow on its way out of the depths of the earth. By doing so, it took on all the colors of the rainbow and became "the rainbow gemstone". Tourmalines, like other crystals are precious objects carrying great spiritual energy. The symbolic meaning concealed in gemstones, like perfection and solidified purity, have shown as energetic patterns expressed in mental themes during homeopathic provings.
There are seven different Tourmalines. In the formation of gemstones, a particular array of micro crystals forms a new organism carrying an energetic pattern differing from gem to gem. The particular array of minerals that forms each Tourmaline represents the crystal's essence and gives each type of Tourmaline a special meaning. In comparison, Diamonds – similar in hardness to Tourmaline – are composed of carbon only and therefore Diamond has only one name and one pattern presented in the various diamonds.
The homeopathic proving of Tourmaline released a new dimension inherent in the stone, exceeding previously available information. Through cases, Anne Schadde will illustrate the deep healing potential of the homeopathic remedy Tourmaline and give an insight to its role in initiating treatment.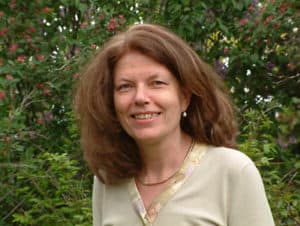 Anne Schadde, HP began to practice homeopathy and psychotherapy in Munich in 1986. She is one of the founders of the Homeoepathie Forum in Gauting/Munich and the European & International Councils for Classical Homeopathy. She teaches in Germany and countries around the globe.
Anne Schadde has conducted homeopathic provings of Ozone, Lithium carbonicum, Ginkgo biloba, Cypraea eglantina (Cowrie-Shell), Lignum aquilaria agallocha (a precious incense wood), Lapislazuli and the Tourmalines. Her provings are published in Ozone, Aletha Book Company, Seattle 1997; Listening to Stone, Wood and Shell,  Homoeopathic Medical Publishers, Mumbai 2004. The proving of the Seven Tourmalines are published in her Homeopathy- eBook at the iBook Store, 2016.
Please note: GoToWebinar, the system we use to conduct webinars, no longer works with the Windows XP operating system. No, to our knowledge there is no workaround.